Endless Belt sources our products from a variety of suppliers so as to provide our customers with a broad choice of quality solutions to suit all budgets.
Endless Belt works closely with customers and suppliers to ensure that the stocks of belt and repair materials held at each site are suited to the needs of local industries.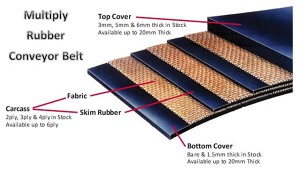 Belt stock held on site includes:
2ply, 3ply & 4ply rubber ply belt with standard covers in various widths (New & Used)
Solid Woven (New & Used)
Pine Oil Resistant (Timber King)
Chevron & Multi-V in various widths and patterns
Other types of Conveyor Belting available on request include:
Chemical & Heat Resistant (CRHR)
Fire Retardant and Antistatic (FRAS)
Heat Resistant (EPT/EPDM)
Oil Resistant (OR) – Nitrile, Neoprene & Nitrile/PVC
Profile belts including Crescent Top
PVC
Rough Top
Transmission belt
Steel Cord
Profile & Patterned Belts
Profile & Patterned belts are designed to:
move materials over an incline
reduce material slide back
assist with material containment
assist or improve belt tracking
Available in Rubber, PVC, FRAS and Oil Resistant materials
Cleated-Sidewall
Cleated-Sidewall belts are designed to:
contain material more effectively
prevent material slide back
assist or improve belt tracking
Available in Rubber, PVC, FRAS and Oil Resistant materials.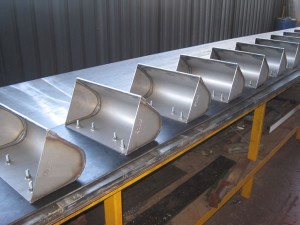 Bucket Elevator Belts & Parts
Endless Belt supplies a range of Elevator Belts and parts for Bucket Elevator systems including:
Polyethylene Buckets
Steel Buckets
Elevator Bolts including Jackson
Elevator Bucket fasteners
Wide selection of Elevator Belts including FRAS
Second Hand Belt

According to PlanetArk Rubber conveyor belts at the end of their lifespan are the second largest rubber waste stream in Australia after used tyres.
As part of our commitment to reduce landfill Endless Belt reuses, refurbishes and recycles, a large proportion of off cut and used belt.
Endless Belt offers refurbishing services for high volume users of belt, such as mines and power stations. Refurbishing involves repairing minor damage to covers, removing sections of belt that are beyond repair and rejoining the remaining usable belt ready for service. Refurbished belt is generally cheaper than a new belt and tensile testing is also available.
When belts are beyond restoration Endless Belt cuts and splits as much as possible to produce pieces that are suitable for:
Lining truck and ute trays
Rubber Mats
Mud Flaps
Lining for horse stables, yards and floats
Cattle feeders