Sure Grip Belt Clamps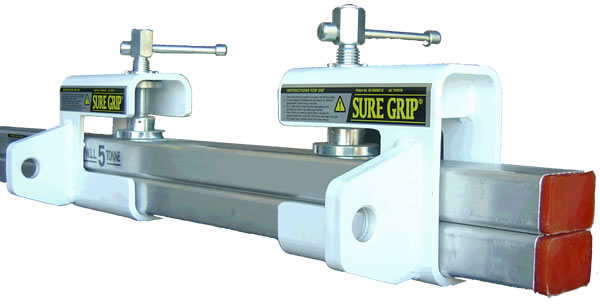 SureGrip® Belt Clamps were designed by a Belt Splicer for Belt Splicers and is the one too that no Belt Splicer should be without. With the inherent risks associated and liability involved in installing and removing conveyor belts, only the best design should be considered.
While most Belt Clamps are attached outside the edge of the conveyor belt, the unique and patented design of the SureGrip® applies positive pressure directly to the surface of the belt. This means less damage to the carcass of the conveyor belt and generates significantly more pulling force.
Generally, bolts, nuts and washers on conventional clamps get lost or damaged. The SureGrip® belt clamp is more robust and the bolt is not removed from the clamp, thus minimising damage and/or loss.
Clamp ends are constructed from high grade steel with a choice of Steel or Aluminium clamping beams. SureGrip® is both durable and light weight making it easy to transport and assemble in any environment. The patented SureGrip® End and Screw Assembly are created for maximum grip and are simple to use with the integrated hard tightened screws. This feature minimises damage and loss providing both cost savings and efficient application of the clamps.
Our larger models can be fitted with ratchet winches at both ends to enable easy raising of the lower beam even when the belt is in a trough position.
Features:
•    Simple & Reliable Design
•    Clamp end & Screws are made from High Grade Steel
•    Designed for use in any conditions
•    Lightweight aluminium bars available
•    Pulling ability in excess of 10 tonnes
•    Easy to transport & assemble
•    Available in four sizes
AVAILABLE IN FOUR SIZES
Light Duty for belts up to 600kN x 1200mm width – 1t
Light/Med Duty for belts up to 600kN x 1200mm width – 3t
Medium Duty for belts up to 1200kN x 1500mm width – 5t
Heavy Duty for belts up to 2000kN x 2000mm width – 7t
(click pdf icons to download brochures)
Send your enquiry about SureGrip® Belt Clamps